Become a Famous Partner
Famous Food Festival is looking to possibly partner up with you! We're offering a variety of partnerships and co-promotion opportunities at each event's site, on our website, and in our marketing materials – all which deliver an eager food-centric demographic to the top of your lead list!
Each partner relationship is unique and tailored to specifically maximize your budget, attract your exact demographic, increase awareness of your brand, and benefit from additional brand exposure in our own internally funded marketing efforts.
We work tirelessly extending our brand into new metropolitan areas through the use of creative marketing strategies, and offer select per-qualified promotions partners the opportunity to "ride our coattails" into this special spend-happy foodie demographic, with extremely loyal buying habits… Appeal to the families, the groups of friends of all ages, and the tours that arrive at our festivals to taste famous foods from all around the world!
While everyone's having fun, let's make sure to leave a quality lasting impression together. Let's give our attendees the tastes and times of their lives together! Let's create a long-lasting win-win-win situation for you, our attendees and our organization. We have a variety of packages to customize to meet your specific needs and budget, to ensure we create tremendous value for you, and our loyal attendees. We'll silver-platter deliver an ROI you'll be extremely satisfied with, as our goal is repeat business each with our valued qualified partners.
A minimum $5,000 marketing investment per show is required to ensure all details are complete, as well as a per-qualification of credit, your organization's ability to fulfill agreed upon promotions, legalese setup, event insurance, and all other minutia surrounding our polished partner introductions! to get started Contact us for further details.
Our Extended Famous Family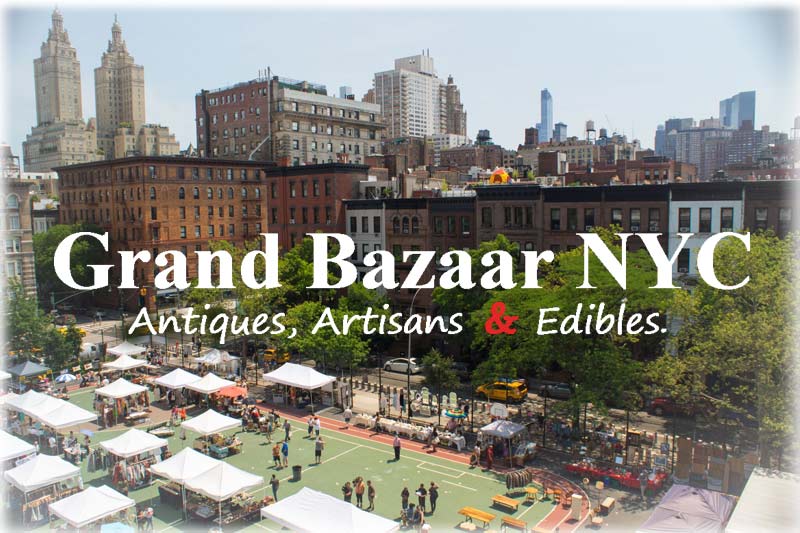 Grand Bazaar NYC, formerly known as GreenFlea Market, is one of the oldest markets in NYC. Located in the architecturally and culturally significant Upper West Side, this historic market space has hosted weekly events since 1982.
Originally founded by a group of parents as a weekend 'yard sale' to supplement fundraising for their school, the GreenFlea Market became a wild success. Since then, the market has continued to expand, with its recent rebrand as "Grand Bazaar NYC" marking a new era and direction.
Today, the market is the largest curated and most distinctive market in NYC, with over 43,000 square feet of indoor and outdoor space. Here, you can find the finest and most unique antique merchants, artists, artisans, food purveyors, and entrepreneurs offering their goods and services to New Yorkers and international visitors.
The purpose of the market has been and continues to be the funding source for four public schools in the surrounding neighborhood. Profits from the market benefit over 4,000 school children by providing them with art enrichment programs, books, supplies, teaching assistants, sports and chess programs.