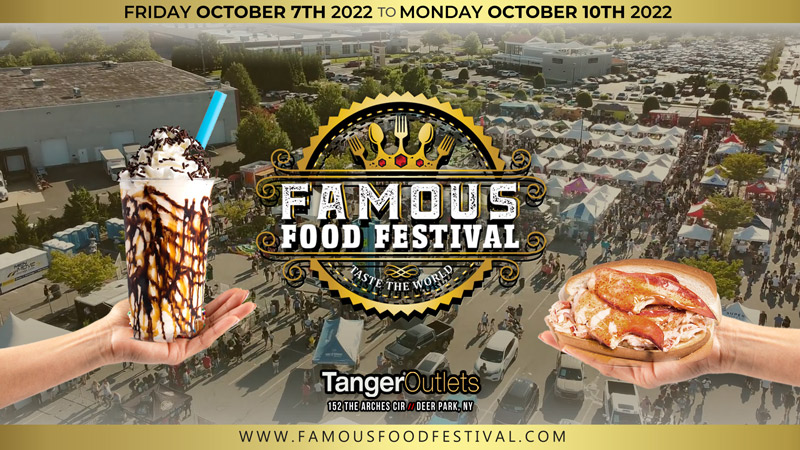 FAMOUS FOOD FESTIVAL RETURNS THIS OCTOBER!
Get ready to 'Taste The World' once again as the legendary Famous Food Festival makes its return to the Tanger Outlets in Deer Park, NY this fall 2022! Featuring Over 60 Food Vendors, be prepared to taste some of the best New York, Tri-State, and home of Long Island has to offer. This fun-for-the-whole-family event is perfect for all ages to enjoy, with prices at only $8 to attend each day when you purchase online ($12 online after festival start), with further discounts for multiple day entry purchase! Tickets at the Door (single day) will be available at $14 per person/per day. Children Ages 8-12 Only $6, Free admission for children 7 and under. Guarantee your ticket today!
Taking Place at Tanger Outlets. Address: 152 The Arches Circle in Deer Park, NY 11729 – Look for Nieman Marcus Department Store Parking Lot. .
Guarantee your ticket today!
*Limited availability
Welcome to the ultimate culmination of Culinary Arts in the Food Festival Industry! Our Community Food Festival event production company consciously focuses on creating a distinctive food festival experience through delivering the opportunity to taste the world and blend together all of the most delectable and flavorsome ingredients stemming from a myriad of different cultures and food..
The Famous Food Festival brings to you new and well known foods from all over the world created by 'new to the scene' and experienced chefs who are thrilled to showcase their creative, mouth-watering works of culinary art to the local community.