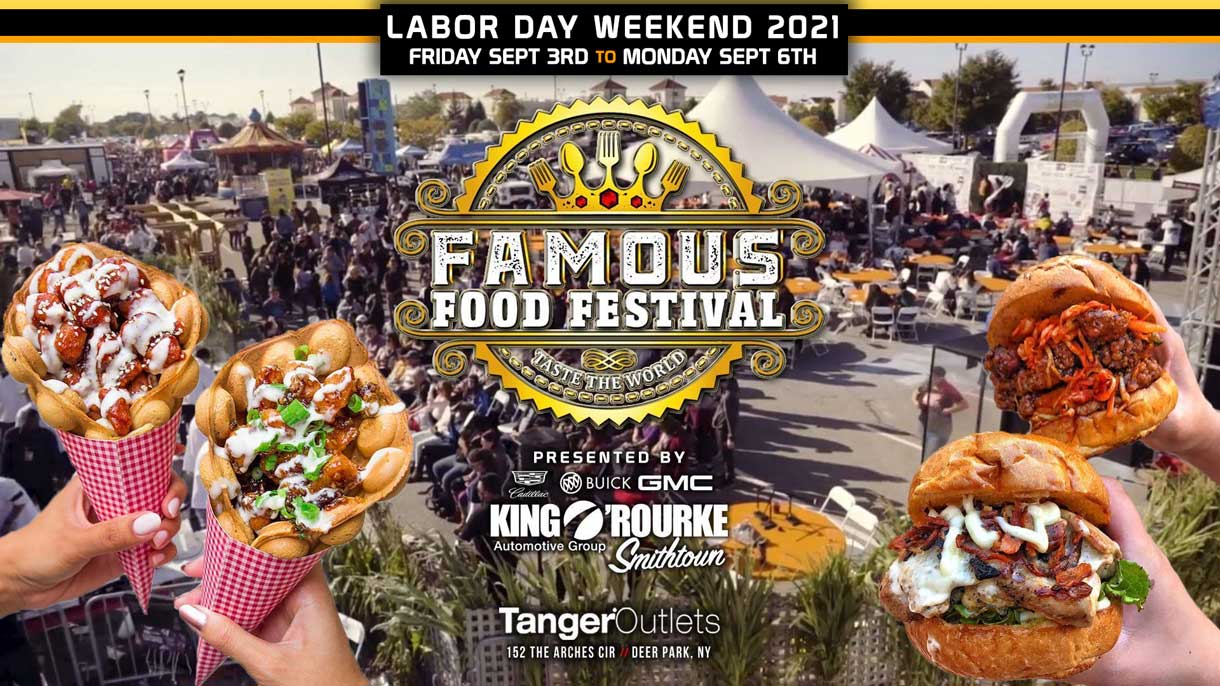 Famous Food Festival Presented by King O'Rourke – September, 2021 – Deer Park, NY
Famous Food Festival is back for its fourth year at the Deer Park Tanger Outlets on Labor Day Weekend, Sep 3rd – 6th! This is the rescheduling of the event in 2020 that was postponed and we are all systems go for LABOR DAY WEEKEND 2021. Thank you for your patience and continued support. Covid restrictions will apply where necessary. Come 'Taste The World' with delicious food inspirations from countries all around the world.
Featuring Over 60 Food Vendors, be prepared to taste some of the best New York, Tri-State, and home of Long Island has to offer. Our focus is to bring Long Island a festival they can be proud of. One that's filled with unique eats and fun things to do that the whole family can enjoy. Whether it's the Live Music and seating section all day, our Beer and Wine Lounge, Cooking Competitions, Local Artists Tent, Virtual Reality Experience, Rockwall and kids section, there truly is something for everyone. Because Long Island New York deserves a famous festival.
This all-ages fun for the whole family event is only $6 to attend each day and discounted for multiple day entry! Children 10 and under are FREE. Taking Place at Tanger Outlets. Address: 152 The Arches Circle in Deer Park, NY 11729 – Look for Nieman Marcus Department Store Parking Lot. .
Guarantee your ticket today!
*Limited availability This year's famous food festival is presented by King O'Rourke.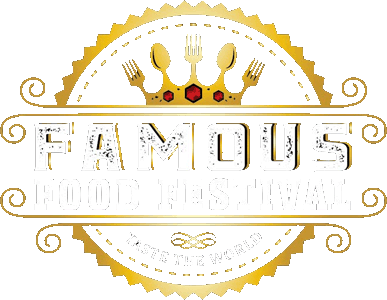 ABOUT THE FAMOUS FOOD FESTIVAL
Can you think of a more enticing expression of culture than food? Welcome to the ultimate culmination of Culinary Arts in the Food Festival Industry! Our Community Food Festival event production company consciously focuses on creating a distinctive food festival experience through delivering the opportunity to taste the world and blend together all of the most delectable and flavorsome ingredients stemming from a myriad of different cultures and food.We offer our 100% satisfaction guarantee and implement our quality standards with pride to produce long-term partnerships with our sponsors, vendors and every attendee that has relished in the hearty experience that Famous Food Festival proudly provides!
TANGER OUTLETS DEER PARK
152 The Arches Circle
Deer Park, NY 11729
VIRTUAL TOUR
The Tanger Outlets in Deer Park, Long Island features over 100 shops, dining and Regal Cinemas right off I-495 in Deer Park, NY! We'll be transforming the 175,000SF southwest parking lot into a wonderland of deliciousness and fun!