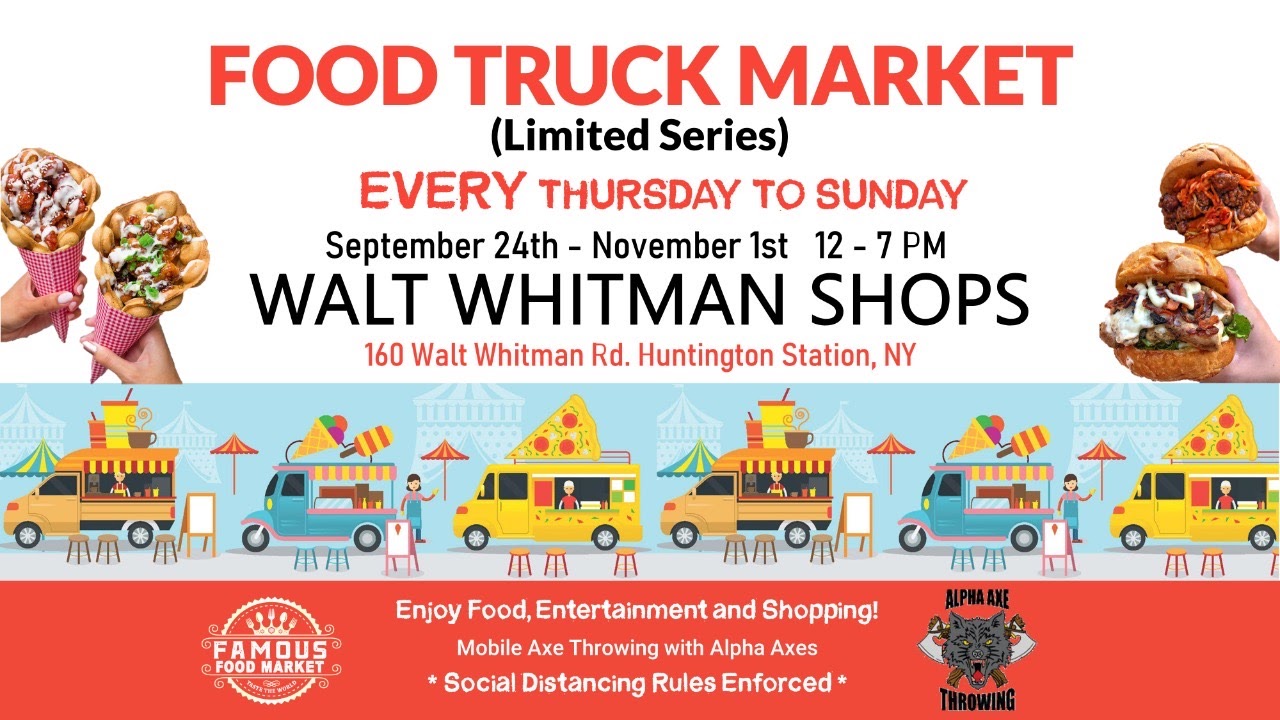 Famous Food Truck Market 2020
About this Event
Starting September 24th Famous Food Festival will be hosting an outdoor Food Truck Market every Thursday, Friday, Saturday and Sunday at the Walt Whitman Shops in Long Island, NY. The food truck market will include 8+ delicious food trucks, all encompassing different cultures of food that provide a wide variety of tastes and dietary restrictions. Tickets are free to enter and fun for all ages! Grab your reservation tickets here to avoid waiting on lines!
MESSAGE FROM THE ORGANIZERS
What a 2020 it has been.
We decided the best method to keep all of our fans happy while supporting the local community is to host an outdoor Food Truck Market.
With Farmers markets being one of the top things to do as we recover from Covid-19 pandemic, we thought there was no better way to serve our local community and the businesses that serve this area.
Come get your axe on with Alpha Axes: Mobile Axe Throwing!
Enjoy Ice Skating, Mini Golf, and Virtual Reality provided by NY Party Works!
WHEN?
Every Thursdays to Sundays 12pm -7pm
September 24th Through November 1st
WHERE?
Walt Whitman Shops
160 Walt Whitman Rd. Huntington Station, NY
▇ Market Sponsors ▇
Springbrook Hollow Farm Distillery | On the Marc Training | NY Party Works | Alpha Axes | Athletic Brewing (Non Alcoholic Beer) | Men on the Move | WBAB 106.1 | 102.3 WBLI
▇ Vendors Week 1 ▇ (9/24 – 9/27)
Bona Bona Ice Cream – Cup or Cone of Ice Cream topped with torched Italian meringue. Bona Style !!!!
Crepes and Bakes Truck – Authentic Sweet and savory crepes and gourmet coffees
Cousin's Maine Lobster – Lobster Rolls
Emily's Apple Puffs – Zeppoles, Apple Puffs, Funnel Cakes, Fried Oreos, Fried Pop Tarts, Fried Twinkies, and Fried Rainbow Cookies
Frosties Ice Cream – Soft ice cream, Cones, Shakes, Soda Floats, Sundaes. and Frozen Novelty Pops
Get Fried – Loaded French Fries, Burgers & Chicken Fingers
G & L Gyros – Gyro, Chicken Pita, Shish Kebab
I Heart Mac & Cheese – Gourmet Mac & Cheese with various toppings
Island Spice – Jerk Chicken, Jerk Pork, Slow Braised Oxtail, Coconut Rice & Peas and Vegan options
Josuha Craft Service – Custom Creations
Knot of this World Pretzels – Gourmet Pretzels
Los Viera – El Salavadorian style papusas, enchiladas & tamales
Nah Mastay – Vegan baked goods cookies, brownies, cinnamon roll, cakes & pies
Rosado's Latin American Cuisine –
Sam's Fried Ice Cream – Fried ice cream (5 different flavor)
Sweetwater Ices – Hand shaven, organic artisanal frozen treats
The Waffle Chic – Chicken Shrimp Belgian waffles, Desert Bubble waffles with ice cream we will also have vegan options
VegKy – Vegan Mushroom Jerky
MJDB Treats – Gourmet Dog Treats
**Vendors may not be available every day of the Market.
General Market Information: 
Commencing Thursday September 24th from 12:00pm to 7:00pm Famous Food Festival (FFF) will host a Food Truck Market and curate 8-10 vendors each week at the Walt Whitman Shops in Huntington Station, NY (160 Walt Whitman Road). There will be a mix of socially distant entertainment and Sponsored activations. The entertainment will include, but not limited to, great music, axe throwing, mini golf, Ice rink, Virtual Reality, and other exciting socially-distant activations. This will be an open air, free to attend, limited Food Truck series that will continue through the end of October. 
Quick Facts about the Location:
Walt Whitman Shops™ boasts over 80 of the nation's finest shops, including Bloomingdale's, Macy's and Saks Fifth Avenue. Serving the nearby communities of Huntington, Dix Hills, Woodbury, Syosset, Melville & Northport, we are conveniently located near the intersection of Route 110 and Jericho Turnpike.  Fabulous shops offer an array of shopping options from fine jewelry to women's apparel to fashionable shoes. Roughly 16,000 – 20,000 cars are seen on a daily basis. 
Date, Time, Duration, Location: 
Beginning September 24th every week until November 1st
Thursdays – Sundays: 12:00PM – 7:00PM 
@ Walt Whitman Shops, 160 Walt Whitman Rd. Huntington Station, NY 11746