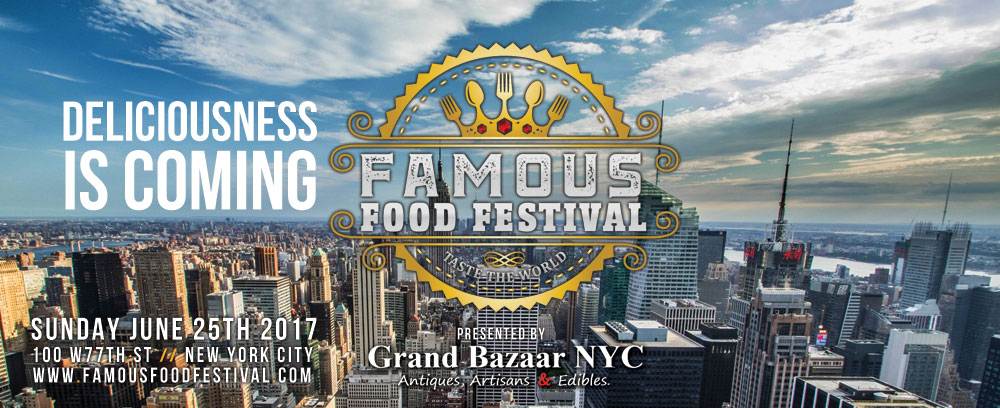 Famous Food Festival NYC
On Sunday June 25th at the Grand Bazaar in the Upper West Side of Manhattan is the first installment of The Famous Food Festival! The Famous Food Festival brings to you new and well known foods from all over the world created by 'new to the scene' and experienced chefs who are thrilled to showcase their creative, mouth-watering works of culinary art to the local community.
Show All
Abruzzese
American
Antiguan
Argentinan
Asian
Asian fusion
Australian
Beverages
Brazilian
British
Cajun
Caribbean
Cheese
Chinese
Colombian
Cuban
Czech
Dessert
Egyptian
Ethiopian
Filipino
French
French Canadian
German
Greek
Guatemalan
Guianese
Hungarian
Indian
Indonesian
Iranian
Israeli
Italian
Japanese
Korean
Lebanese
Mediterranean
Mexican
Middle Eastern
Moroccan
Peruvian
Polish
Slovenian
South African
Southern
Spanish
Swedish
Taiwanese
Thai
Turkish
Ukrainian
Vegetarian
Vietnamese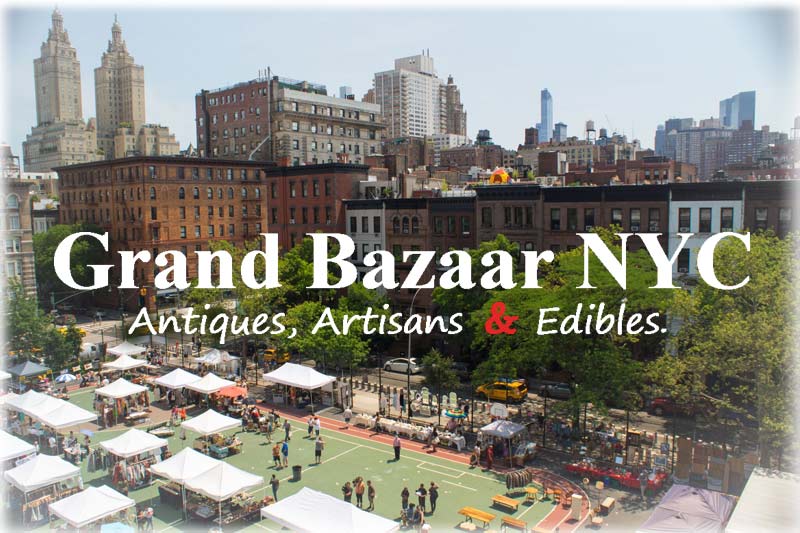 100 W 77th St
New York, NY 10024
Grand Bazaar NYC's mission is to be THE weekly market for New York City. Where the finest and most distinctive antique merchants, artists, artisans, food purveyors, and entrepreneurs offer their goods and services to New Yorkers and international visitors. The purpose of the market has been and continues to be the funding source for four public schools in the surrounding neighborhood. Profits from the market benefit over 4,000 school children by providing them with art enrichment programs, books, supplies, teaching assistants, sports and chess programs.
The market has a rich history, it is one of the oldest, if not the oldest active market in NYC. It is the only market with a social good mission, as it solely exists for the purpose, raising funds for the four neighboring public schools, benefiting over 4,000 children. The Parents Association from schools: PS 87, The Computer School, PS 334 (Anderson Program), and PS 452 are the custodians. The funds raised from the market make a world difference to the schools as they are used for art enrichment programs, teaching assistants in the classrooms, books, supplies, chess and sports programs, and many other activities that enhance the child's experiences in a public school setting.
The original market had its humble beginnings in 1982 when a group of parents wanted to supplement the fund raising for the school with a weekend 'yard sale'. The market became wildly successful and GreenFlea Market was created in 1985 to ensure the continuity of the operations of the market as parents and students 'aged out' of the schools. The GreenFlea Market has seen many changes over the past 30+ years. In the summer of 2016 the market changed its name to "Grand Bazaar NYC" to reflect the current times, and to set a new and bigger direction. Today the market is also the largest curated and most distinctive market in NYC, with over 43,000 square feet of indoor and outdoor space.